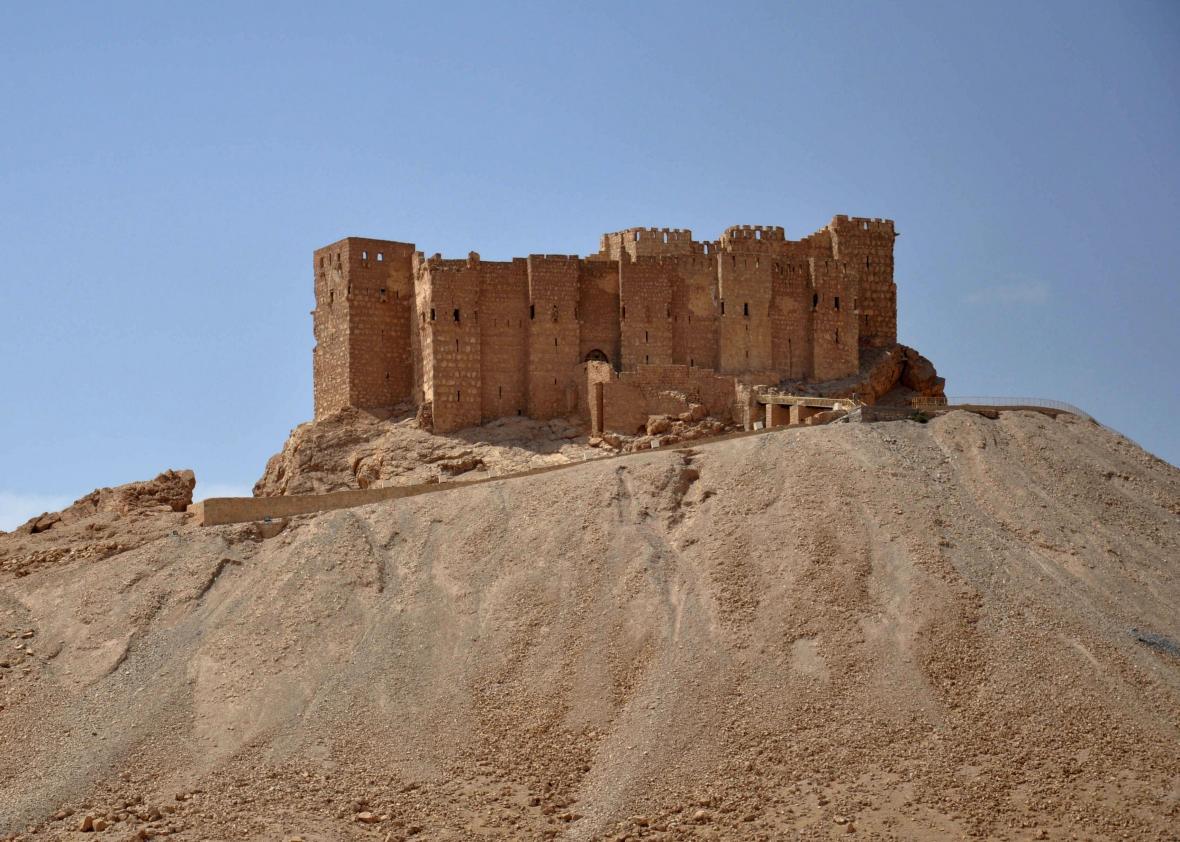 The castle of the ancient Syrian city of Palmyra—a 2,000-year-old world heritage site known as 'the pearl of the desert'—a day after Islamic State group jihadists fired rockets into the city and killed five people.
When Bassel Khartabil first began creating photographic three-dimensional models of the ancient ruins known as Palmyra, he hoped to preserve one of Syria's greatest archaeological treasures. Ten years later, Khartabil is a prisoner of Syria's fascist Assad regime, and Palmyra is being systematically destroyed by ISIS. Now Khartabil's friends and fellow activists hope his 3-D models might save not only Palmyra but Khartabil himself.
On Wednesday, a group of online activists, archivists, and archaeologists plan to release the first batch of files from the New Palmyra Project, an online collection of reconstructed 3-D models of the 1st century A.D. city originally based on photographs taken by Khartabil in a series of trips he took to the site starting in 2005. The group says its models, created with the Autodesk software Maya, can be used for online visualizations, Oculus-style walkthroughs, or even 3-D–printing miniature replicas. It's also inviting anyone who has more data from the Palmyra site to upload it to the group's crowdsourced repository, the better to create the world's most detailed digital reconstruction of the ancient oasis city.
Their release comes as both Palmyra and Khartabil face serious threats from opposite sides of the Syrian civil war. Khartabil, a Palestinian-Syrian blogger, coder, Wikipedia contributor, and founder of the Damascus hackerspace Aiki Lab, was arrested without explanation on the streets of Syria's capital and jailed in early 2012. After nine months, he was moved to the corrupt and overcrowded Adra prison near Damascus, still without formal charges against him made public. Nearly three years later, he remains a captive of the Syrian regime, and supporters believe he has yet to even see a judge.
Meanwhile Palmyra, a UNESCO world heritage site near the city of Homs in central Syria, has been controlled by ISIS since March. The extremist thugs have executed locals and obliterated a series of the site's priceless monuments and landmarks that they've declared to be sacrilegious idols. The latest to fall were the site's Triumphal Arches, a collection of two-millenia-old structures that the terrorist group destroyed earlier this month in a highly publicized bombing.
The New Palmyra Project seeks to digitally rebuild those structures as they're being physically deleted—and in doing so, put a spotlight on the project's creator that could help pressure the Assad regime to release him. "We want to make clear what an asset Bassel is to the Syrian people and even to the Syrian government," says Barry Threw, the director of New Palmyra and a developer for the architectural software firm Obscura Digital. "We want to highlight the community- and culture-building he's done for Syria … We're hoping this perception will have a positive impact on his release."
In fact, Khartabil's situation has become even more critical in recent weeks: In early October he was moved from Adra prison to an unknown location. His wife, the human rights lawyer Noura Ghazi, believes he was taken by Syria's army, possibly to face charges in a secret military court. In a grim sign of Khartabil's pessimistic outlook, Ghazi says she's learned that he removed his wedding ring and gave it to a fellow prisoner for safekeeping.
Just why the Assad regime imprisoned Khartabil in the first place isn't exactly clear. But EFF activist Danny O'Brien says that the Syrian regime is deeply suspicious of the free information movement, the open Internet and anyone with a following there. Khartabil, a foreigner with Palestinian roots, likely became a target by criticizing the Assad regime on twitter and posting updates on the Syrian situation to Wikipedia and his blog. "It's hard to explain to a security services official in a country like Syria why you're spreading information freely for the benefit of humanity," O'Brien says.
But O'Brien is still hopeful that international attention to Khartabil's case can save him. Protests against his detainment in a secret prison for the first several months after Khartabil's arrest may have been one reason he was moved to the relative safety of Adra, where his wife was able to visit and human rights groups could keep tabs on him. O'Brien hopes that a similar movement of petition-signing and phone calls to Syrian embassies—not only from Americans but from citizens of countries with more influence on Syria like Russia and Venezuela—can shame the Assad regime into making Khartabil reappear again. "The thing that keeps people like Bassel healthy, alive, and free is the world's attention," O'Brien says.
Saving Palmyra, on the other hand, may already be impossible—at least in its physical form. ISIS has wreaked havoc since it captured the area, packed with ruins from both Semitic and Roman civilizations that have been well preserved by the dry desert air. The violent Islamists have used the site as a military base and executed dozens of civilians and captured Syrian regime soldiers there. They've also gone on a campaign of destruction, selling or destroying any artifacts that don't conform with their medieval notion of Islam. "ISIS loots what it can, and what it can't it destroys as a sinister campaign to emphasize its ability to act with impunity," says Amr Al-Azm, a Syrian professor of history at Shawnee State University and an advisor to the New Palmyra Project. "It's a powerful message to shock the West, and it resonates with ISIS's base of supporters."
In just the last two months, ISIS has blown up the temples of Baalshamin and of Bel, two of the oldest structures in Palmyra and then most recently exploded the Triumphal Arches, built by the Romans to commemorate a military victory over the Persians. When a curator of the site, the renowned 82-year-old archaeological scholar Khaled al-Asaad, refused to lead ISIS to hidden artifacts, the militants beheaded him and hung his mutilated body from one of the site's columns.
The New Palmyra Project isn't the only group seeking to use digital modeling to save the Middle East's treasures from ISIS. The Oxford Institute of Digital Archaeology has launched a Million Images Database seeks to bring low-cost 3-D cameras to activists in Syria who can still document places that haven't been destroyed by ISIS or by the war's bombing. Another project by the 3-D–scanning focus nonprofit CyArk aims to use laser scanners to create models of endangered antiquities down to a few millimeters of accuracy.
The New Palmyra Project's Barry Threw admits that Khartabil's photographic images aren't so exact. The reconstructions the group has made so far from photographs and satellite images are "artistic," he says, rather than "scientific." But given ISIS's destruction over the past months, the group's models may already document structures that are otherwise lost to history. "This is a project about taking ISIS's destruction and building something new out of it in the virtual space," says Threw. "It's an attempt to rebirth this culture with digital tools."
But Threw doesn't obscure the fact that the Palmyra models are also a means to an end: saving Bassel Khartabil. "We want to bring attention to Bassel's situation by bringing light to this work he did for Syria," says Threw. "We want to accomplish Bassel's release. We think this is the best way to do it."