Dennis Rodman was a key member of the iconic Detroit Pistons' Bad Boys teams, but when he left Detroit, things changed. What was the turning point?
There will never be another Dennis Rodman in professional sports; you can decide if that's a good thing or not. For the Detroit Pistons in the late 80's, Rodman was an integral member of a team that won two NBA world titles.
Later in his career, he helped Michael Jordan and the Chicago Bulls complete their second three-peat in the late 90's.
Something happened in between the runs in his career that turned him from an innocent, quiet young basketball player into the ultra-bizarre off the court rebel that most people know him as today. When looking at the arc of his unique career, it's hard to not wonder what the turning point was that changed Rodman's image.
Early on as a Piston, Rodman was able to express himself with his play on the floor. His relentless hard work and tenacity was apparent the first day he stepped into the NBA and would define his career (on the court). As a young player, there were no piercings, tattoos, drinking or mischief in general.
Coming from a broken family life, Rodman finally found structure in his life. A few years earlier, he was homeless and working as a janitor at an airport. The enormous lifestyle change coming into the NBA was surreal to someone with such a history. In Detroit, Rodman finally found a home. As a Bad Boy, he found a brotherhood.
Legendary Pistons coach Chuck Daly became a father figure to Rodman early in his career.
Their relationship became the key reason he was able to blossom into a young star in the NBA, as Daly gave him free reign on the court – sort of like letting a caged dog out of the kennel.
Rodman played a key part in both championship runs. During their second title run in 1990, his role changed from sixth man to starter midway through the season. The lineup change gave Detroit the spark they needed to repeat and Rodman won his first of back to back defensive player of the year awards.
Even through the many successes, he remained vulnerable. You could say that Rodman's rebellion was inevitable because of his harsh upbringing and inability to have a normal childhood.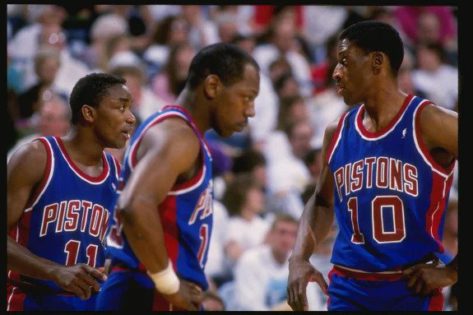 Toward the end of his time in Detroit, the team wasn't winning and the realities of being an NBA star settled in. Non-stop media attention, pressure from fans and the organization were all unwanted.
It seems like the breaking point for Rodman came on May 5,1992. This was the date Daly resigned as Pistons head coach.
At the time, Rodman did not understand the life cycle of an NBA team. To him, the whole team stays together from when they were drafted until retirement – like one big happy family.
The blow of losing beloved teammates after their title runs were extremely difficult, but the departure of the Daly – a man he has grown so close to – may have been the last straw.
"I feel really, really bothered by this. He shouldn't be gone. Losing a basketball game is not as important as losing the person you love and care about," Rodman said shortly after Daly's resigning. Less than a year later, Rodman was found by the police outside the Palace of Auburn Hills sleeping with a rifle in his lap.
He had hit a low point in his career and certainly was left in a lost place. As someone who's continuously dealt with abandonment, this hit him harder than usual. In 1993, Rodman was traded to the San Antonio Spurs — a trade that he felt was for nothing — and the next chapter of his (literally) colorful career had begun.
It certainly isn't uncommon for celebrities with harsh upbringing to lash out. The hair, the partying, the outfits and Madonna, of course. All things that later defined the image of Rodman. There are plenty stories of the off the court antics throughout the rest of his career.
However, on the court, he found a revival on the Bulls and brought a grit to an already iconic team.
His legacy is important to the NBA for many reasons. Without Rodman do the Pistons win back to back? Do the Bulls get their second three-peat? He made rebounding into an art form and changed the way athletes viewed self-expression.
Rodman's time with Pistons will always be looked upon in a good light. As someone who worked hard at all times, he caught the hearts of Detroit fans from day one.
The unconditional love of his teammates and especially Chuck Daly was exactly what he needed in his life at the time. It was the perfect marriage, but he would ultimately learn that everything good comes to an end.