Darvin Ham and Rob Pelinka addressed the media ahead of Los Angeles Lakers training camp. Here's what to know.
Ahead of training camp, beginning with Media Day on Monday, Los Angeles Lakers general manager and vice president of operations Rob Pelinka and head coach Darvin Ham addressed the media at the team's practice facility on Thursday.
Over the course of an hour, Pelinka and Ham hit on a bevy of topics, including LeBron James's preparation, Anthony Davis' contract extension, Austin Reaves' increasing role, and D'Angelo Russell's place in the backcourt hierarchy.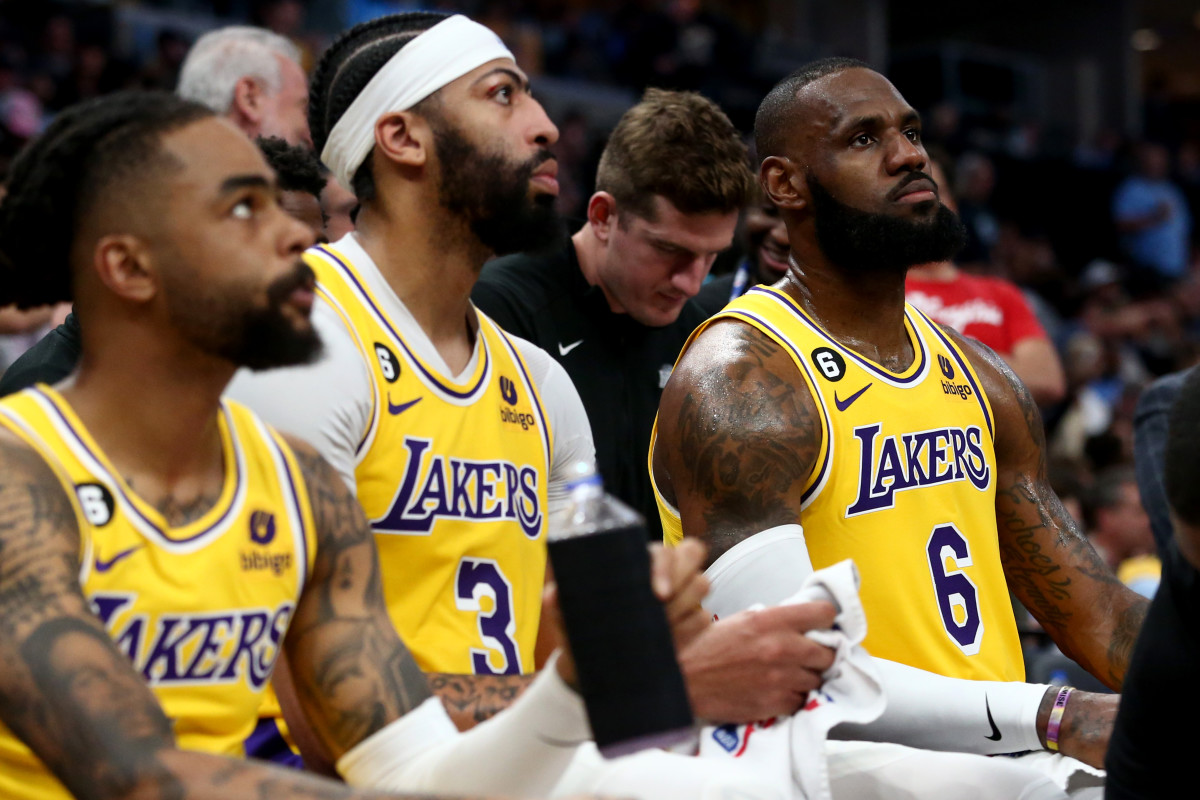 "It's October to June. That's a long stretch," said Ham. "So, everyone has to come in with that daily, being-in-the-moment mentality of trying to get better, not just individually but collectively at something each and every day. I'm excited. We were laughing upstairs, like, 'people talking like now you got expectations.' Well, since I was five, six years old I had expectations. You wanna be a fireman when you grow up? There's your expectations. Now they're gonna expect something of you. Or a doctor, or a lawyer. No matter what route you choose in life, you're going to have expectations. To me, that's living. You don't have any expectations around you, you're just existing. I want to live. I came here for those expectations.
"You don't run from it. You just embrace it."
Here were the key takeaways from the presser.
Year 21 LeBron
LeBron capped his 20th season by publicly floating retirement (after playing 48 minutes in Game 4). He's entering his 21st season as invigorated as ever.
"I would answer that with one word: preparation," Pelinka responded when asked about LeBron's replenished fire. "It's staggering for a player who has 20 years under the hood already and is preparing for 21 like he's a rookie. He's been doing 6 a.m. workouts. Probably been in our building as much as any player this offseason. Been in the weight room as much as any player."
(Rui Hachimura has been joining LeBron for the morning workouts. LeBron has been calling Rui his "understudy", per Ham.)
Ham believes "the continuity of building a well-balanced roster" will be critical to the soon-to-be-39-year-old's durability.
"Now that we have, top to bottom, what we feel like is a highly, highly balanced, skilled, athletic, younger team of guys who logged a ton of NBA minutes, we can surround both he and AD with these players who are coming in eager to contribute, eager to show that they can impact winning. That's going to allow us to be able to be more efficient with his game-to-game minutes, the big picture, month-to-month, different sections in the calendar. He was grandfathered in by the rest rules, so I was happy to see that.
"The pieces that we have in places, those guys are going to step up and do a lot of heavy lifting early."
"We were very intentional about the versatility this roster has, the depth that the roster has," piggy-backed Pelinka. "There's upgrades of spacing and shooting … That was all done … knowing that LeBron's going into the 21st year. We have to partner with him to help him get all the way to the end because that's his goal."
Anthony Davis, Face of the Franchise
Last month, the Lakers — as soon as they were allowed — committed to AD as the franchise's cornerstone for the post-LeBron era, in the form of a record contract extension.
Davis, 30, has never played more than 62 games in Los Angeles. However, Pelinka said AD's "character" was the driving force behind the Lakers' decision.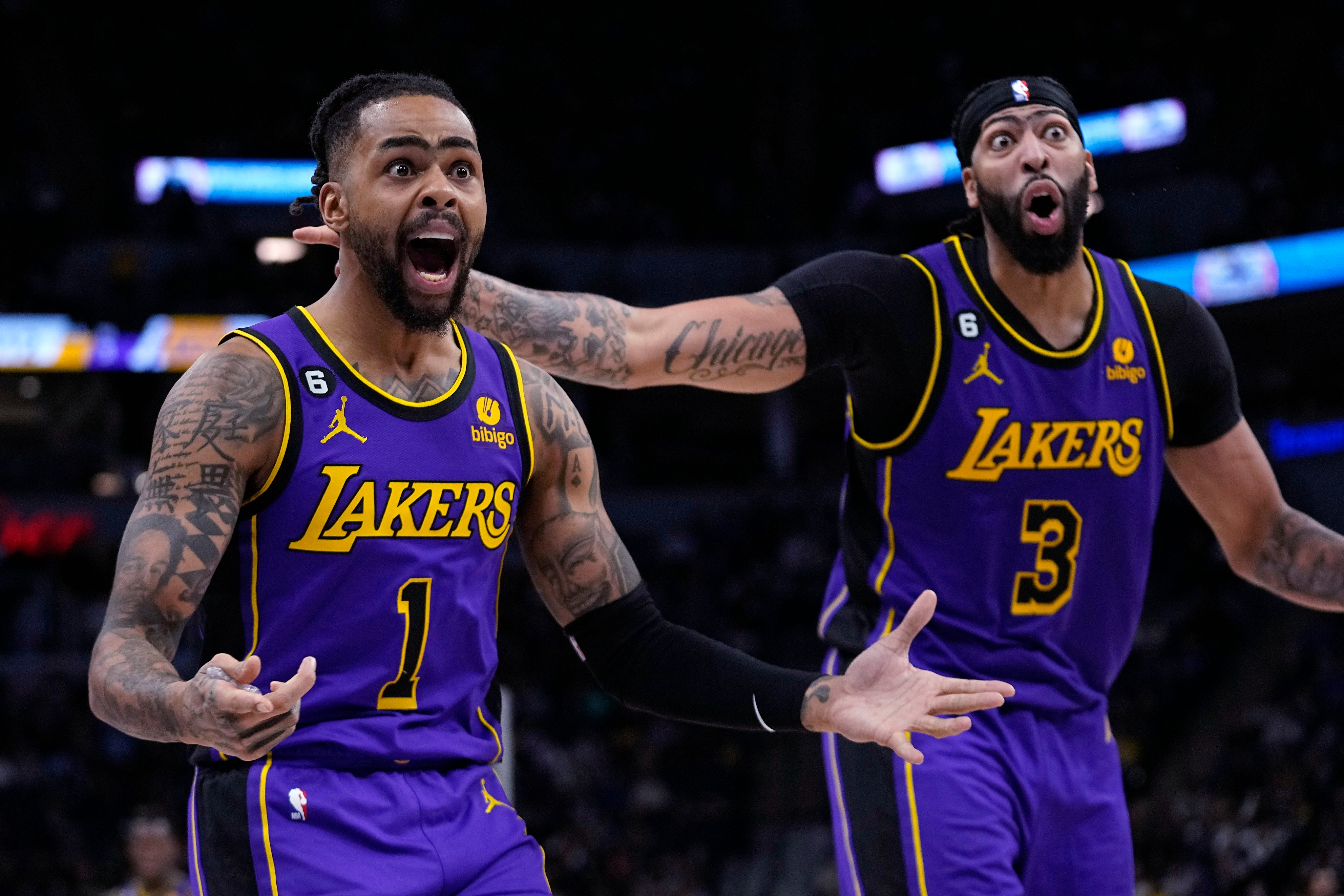 "Character, character, character," stressed the GM. "We as an organization, Jeanie, Darvin myself, we believe in the character of Anthony Davis. Just the person he is. Nobody in life can prevent health stuff from happening unexpectedly. We're all human, we're all subject to that. But we can carry ourselves with character and Anthony Davis stands for that."e
A few days after Austin Reaves provided an encouraging update on the state of AD's jumper, Ham and Pelinka lauded the big man for his summer regimen. They professed zero qualms about his ability to validate his elevated stature.
"When AD came up for the extension, Darvin and I had great interactions with him," said Pelinka. "And the theme was, 'We want to commit to you, but we want you to commit to us.' And one of the aspects that we addressed with him in that exchange was becoming a leader and being the hardest worker, and he really did that this offseason. … He knows that when the franchise invests in him, like we did this summer, he's gonna return that."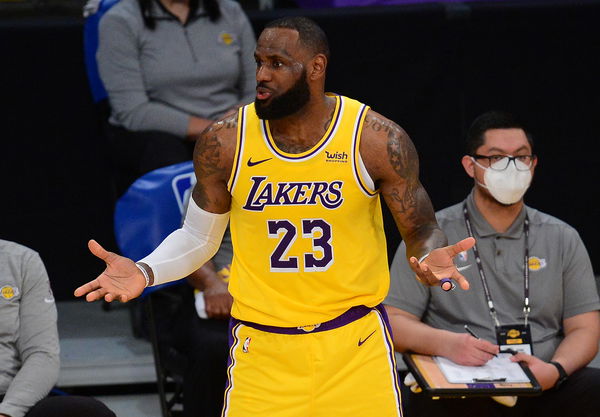 "He came back leaner, stronger, quicker, more explosive," noted Ham. "… There's a huge, huge road still ahead of him in how he can lead this franchise and hopefully put some more banners up here. … Everyone in this building and team and all of his teammates, they want him to be that guy. Including LeBron. … There's no doubt in my mind he'll be returning in even better form to sustain the heavy load."
(As for Davis' preference for the Lakers' to deploy more two-big units in 2023-24, Ham said the Lakers will be experimenting with all sorts of lineup combinations throughout camp.)
Starting Point Guard D'Angelo Russell
How the backcourt rotation shakes out — and specifically, who will start at point guard — was expected to be a storyline to watch throughout training camp.
Nvm. Ham put a rest to any speculation on Thursday.
"At the end of the day, we don't get to where we got to without D'Angelo Russell. He's our starting point guard. … I'm going to encourage him to be assertive. He's a highly intelligent basketball player who's coming back with a chip on his shoulder. He chose us, we believe in him and he's one of those guys who has a ton of pride and passion about not only his individual performance, but those of his teammates, as well."
Russell was always the favorite to land the gig. He's a prideful ex-All-Star who cares about starting (and a possible trade chip.) Gabe Vincent is accustomed to a reserve role.
Who closes games — and how Russell performs in the postseason, should he still be on the roster — will ultimately be the more important development. Vincent and Max Christie should see opportunities.