For much of the NBA's decades-long history, the best teams have fielded at least three superstars in order to win the coveted Larry O'Brien Trophy.
On Sunday, April 19, ESPN will debut a 10-part documentary on the Bulls' dynastic run in the '90s that culminated with the 1997-98 title. That team was famous for its own Big Three of Michael Jordan, Scottie Pippen and Dennis Rodman.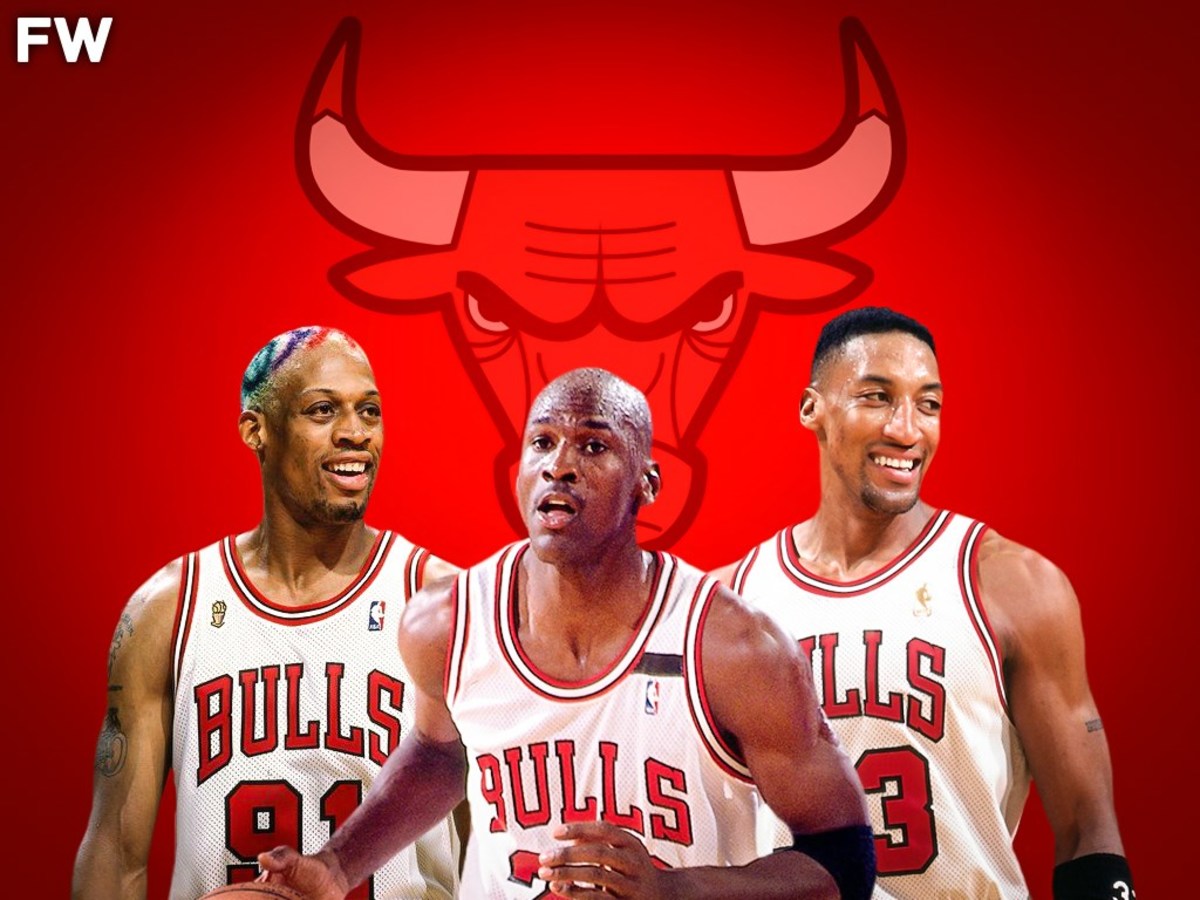 A quick scan of the league from its infancy to the present will reveal a plethora of three superstars coming together on one team to form a formidable partnership that will result in a title.
Though the NBA landscape has changed over the past two years with Big Threes being replaced by Dynamic Duos (pardon my borrowing the term, Batman and Robin), but the league will always be enamored with the prospect of putting together a trio of stars to try and capture that elusive title.
Let's take a look at the best Big Threes.
10. Wilt Chamberlain, Jerry West and Elgin Baylor
1968-1971 Los Angeles Lakers
Championships: 1
Finals Appearances: 3
There are not many trios in NBA history that are more iconic than Wilt Chamberlain, Jerry West and Elgin Baylor. Though Baylor retired before they won a championship in 1972 (he retired nine games into the season), he was given a championship ring regardless.
At the time, these guys were the best of the best despite being at the tail end of their careers when they banded together. Because of their heartbreaking losses in the Finals, it's easy to dismiss the accomplishments of these three stars.
But if you remember how much Chamberlain in Philadelphia and West and Baylor in L.A. struggled mightily against Bill Russell's Boston Celtics for many years, you'll appreciate how the Lakers gave them one last stretch of opportunity to win a title.
Chamberlain sacrificed his offense in order to blend in with his fellow stars. He averaged 20.3 points to go along with 20.5 rebounds during this five-season stretch.
Of the three, it was only Chamberlain who claimed a title at the Celtics' expense, and that was only one season. In 1969, they experienced perhaps their toughest loss when they lost a seven-game series to Russell's boys in the Finals even with West winning Finals MVP honors with a 37.9-point average.
Baylor was still at the top of his game, averaging 24.5 points per game in the first two seasons that they played together. Injuries limited him to 11 games for the next two years.
In 1972, with Baylor's retirement, Gail Goodrich became the team's third star and they reeled off an NBA record 33-game winning streak. It remains unbroken to this day decades later.
This Lakers squad made it to the Finals three times and it resulted in one championship. Had they been together during their younger days, it's possible that the Celtics' dynasty would have been cut short much earlier.
9. Bill Russell, John Havlicek and Sam Jones
1962-69 Boston Celtics
Championships: 7
Finals Appearances: 7
The Boston Celtics dominated the 1960s like no other team in history. Bill Russell's presence anchored the Celtics' vaunted defense and ignited their fastbreak. His leadership, one of Russell's best traits, kept egos in check.
The greatest winner to ever grace the NBA, Russell carried the Celtics on his back and simply refused to lose to the competition. Though they failed to reach the Finals in 1967, they never lost a series in the Finals in the 60s.
John Havlicek, one of the most clutch players in Celtics' history, took over from legendary point guard Bob Cousy, who retired at the end of the 1962-63 season. When "Havlicek stole the ball" in the 1965 Eastern Conference Finals, he was immortalized in the hearts and minds of the Celtics faithful forever.
Sam Jones may not be the most popular of three, but he was a five-time All-Star, three-time All-NBA Team selection, and a 10-time champion.
Not many Big Threes can say they won seven championships together, but these three did. The only reason why they're not higher on this list is because of how much more accomplished individually the others on this list are.
8. Isiah Thomas, Joe Dumars and Bill Laimbeer
1985-1993 Detroit Pistons
Championships: 2
Finals Appearances: 3
The Detroit Pistons core of Isiah Thomas, Joe Dumars and Bill Laimbeer didn't care if they were hated by their peers during their time as champions. As long as they can keep their two titles from 1989 and 1990, nothing else mattered to them.
With their mind games, intimidation and brutal defense, the Bad Boys stymied even the best offensive units in the league and put their stamp in history with the Jordan Rules, defensive sets created to stop Chicago Bulls superstar Michael Jordan.
Thomas is the ring leader, the one whose voice the team listens to and their most talented player as well. A 12-time All-Star and multiple All-NBA Team member, Thomas was a playoff and Finals performer of the highest order.
Dumars, the quiet and unassuming star, was a terrific defender and a clutch shooter. He won Finals MVP in 1989.
Laimbeer was Thomas' second-in-command, carrying out the unenviable task of punishing any and all players who ventured into the lane. He was a four-time All-Star and a rebounding champion as well.
Despite their brutish style of play, there was a method to the madness. It can even be argued that if not for the Pistons' rugged ways, Jordan would not have been forged into the champion that he eventually became.
7. Dwyane Wade, LeBron James and Chris Bosh
2010-2014 Miami Heat
Championships: 2
Finals Appearances: 4
The term Big Three became synonymous with this threesome when LeBron James and Chris Bosh joined Dwyane Wade and the Miami Heat in 2010.
Though they were hated mostly because of James' infamous television special regarding his free agency decision, the Heat were nearly unstoppable during their four-year run together.
Their 224-88 record (.718 winning percentage) in four years includes an NBA second-best record 27-game winning streak in the 2012-13 season.
James is the centerpiece of this group. He is widely believed to be one of the top three players of all-time. He won two of his four regular-season MVPs and two Finals MVPs during this time. His all-around brilliance was in full display in the 2012 and 2013 Finals.
Wade is one of the three or four greatest shooting guards ever, and it was he who carried the Heat to their first championship in 2006. He was still at the height of his powers at this time but he deferred to James mainly to provide a focal point for their offense.
Bosh sacrificed more than anyone in this group. He gave up 20-point scoring to provide the Heat with a paint presence on defense and a stretch four offense before the term became popular. He was an 11-time All-Star, too.
Though they were on the verge of a lengthy dynasty, the only thing that kept this Heat team from winning more titles was James' return to the Cleveland Cavaliers, his hometown team.
6. Kevin Durant, Stephen Curry and Klay Thompson
2016-2019 Golden State Warriors
Championships: 2
Finals Appearances: 3
If not for an injury to Kevin Durant in the 2019 NBA playoffs, this Warriors group could have won three titles in three years, the first 3-peat since the 2000-2002 Lakers accomplished the feat.
The former MVP bolstered the Bay Area squad's offense and made them virtually unstoppable. He became one of the league's best two-way players as a member of the Warriors and transformed them into a juggernaut.
Durant may be the team's best player, but the Warriors go where Stephen Curry takes them. The two-time MVP is the main reason why this team is a difficult matchup for nearly every team.
With his otherworldly 3-point shooting from even the farthest corners of the court, Curry changed the way the game is played, making him one of the league's true revolutionaries. He and Durant are easily going to be first-ballot Hall of Famers.
The least celebrated in the group is one of the league's deadliest marksmen ever. If not for Curry, Klay Thompson would likely own several all-time 3-point shooting records by now. Nonetheless, he is a five-time All-Star, a defensive stopper and an indispensable part of the Warriors trio.
An argument can be made that the Warriors actually employed a Big Four with Draymond Green as the team's fourth star. That is certainly an accurate observation as Green is a big reason why Golden State was practically unstoppable until injuries and Durant's defection to the Brooklyn Nets last season blew up the core.
5. Shaquille O'Neal, Kobe Bryant and Derek Fisher
1996-2004 Los Angeles Lakers
Championships: 3
Finals Appearances: 4
This trio could have easily won a minimum of six championships together but Shaquille O'Neal and Kobe Bryant could not co-exist without butting heads.
Despite that, they won three straight titles at the beginning of the new millennium with O'Neal bullying all those that stood in his way. He was unstoppable in the painted area as his skills only got better with time. It's a shame he only won one MVP even though he's one of the top 10 players of all time.
Bryant grew under coach Phil Jackson's leadership but his talent was always there. The Lower Merion High School product became a perennial All-NBA member during their run to the Finals. As Bryant carefully studied Jordan's repertoire of moves and applied them to his game, he quickly rose to stardom and became one of the league's biggest stars.
Though Derek Fisher was mainly a role player for this team, he provided steady leadership and clutch baskets for the Lakers, perfectly complementing the greatness of his more celebrated teammates.
If not for his game-winning shot with 0.4 seconds left in the 2004 Western Conference Semifinals, the Lakers of the early 2000s would not have made it to their fourth Finals appearance.
4. Larry Bird, Kevin McHale and Robert Parish
1980-1991 Boston Celtics
Championships: 3
Finals Appearances: 5
Widely considered the greatest frontline in NBA history, Larry Bird, Kevin McHale and Robert Parish formed an indomitable trio that made the Finals their playground.
Only injuries sustained over the course of their careers could stop them from achieving more.
Bird, the only player in league annals to win three-straight MVP awards, was the driving force of the Celtics. An all-around player of the highest caliber, the 6-foot-9 forward was arguably the greatest trash talker in the game who backed up his words with his performance.
His greatest performances came in the biggest stage—the NBA Finals.
Before LeBron James' arrival in the NBA (some would say even with James' emergence as an all-timer), Bird was the undisputed best small forward of all-time.
McHale was a two-time Sixth Man of the Year awardee but soon became a full-time starter. He had a thousand post-up moves that would befuddle his opponents on his way to scoring an easy basket.
At the other end of the court, McHale terrorized opponents as a six-time All-Defensive Team member.
Parish is a nine-time All-Star who averaged double-figures in points and rebounds during his time as a Celtic. With a high-arching shot that's virtually unblockable, he made timely baskets and was a stable paint presence for Boston.
Although he had the unenviable task of guarding the league's best centers, Parish was more than capable of holding his own, and his work in the paint on both ends of the floor guaranteed that the Celtics would not be taken advantage of in the middle.
Before the second-best Big Three of all time came along, this group played together the longest of any group.
3. Magic Johnson, Kareem Abdul-Jabbar and James Worthy
1982-1988 Los Angeles Lakers
Championships: 3
Finals Appearances: 7
The Showtime Lakers were the darlings of Hollywood in the 80s with Magic Johnson, Kareem Abdul-Jabbar and James Worthy, a trio of stars that shone brighter than many celebrities.
A success rate of three titles in seven appearances in the Finals gave them the right to be among the top three in the Big Three list.
It was Johnson who turned them into the flashy and classy stars that ruled the NBA for much of this decade. Even after all these years, the 6-foot-9 Johnson remains the standard by which all playmakers are measured.
His three MVP awards set the stage for more guards to win the Maurice Podoloff trophy in the succeeding years.
Though Abdul-Jabbar was aging as the decade progressed, he still produced enough of his on-court wizardry with his patented skyhook to vanquish his foes. At 38 years and 54 days old, he became the oldest Finals MVP awardee when he took home the award in 1985.
Worthy seamlessly became a part of the Lakers machinery when he was drafted in 1982. A seven-time All-Star, the University of North Carolina alum was the MVP of the1988 Finals. He capped it off with a triple-double in Game 7 of the series.
That championship by the Lakers gave the league it's first back-to-back title winner since the 1968-69 Celtics, cementing this Lakers Big Three as one of the greatest ever.
2. Tim Duncan, Tony Parker and Manu Ginobili
2002-2015 San Antonio Spurs
Championships: 4
Finals Appearances: 5
Few will argue that Tim Duncan is the greatest power forward of all time. His professionalism, humility and leadership merely add to his stature in the league. His two MVPs, three Finals MVPs and 15 All-NBA selections are just a taste of his accomplishments.
Though Tony Parker and Manu Ginobili aren't exactly the biggest stars on this list, the fact that they played so well with Duncan brought the Spurs the success that very few franchises enjoy.
Their partnership produced four titles, losing only once in the Finals. The Spurs were guaranteed a spot in the playoffs the whole time this trio played together. That's a span of 13 straight years.
Though they would restock the roster with fresh faces through the years, the only constants on the team were Duncan, Parker and Ginobili aside from coach Gregg Popovich.
Parker was a six-time All-Star and four-time All-NBA selection. Ginobili was a Sixth Man of the Year awardee, two-time All-Star and an All-NBA Team member twice.
Despite the lack of individual awards and accolades from Parker and Ginobili, it's what their team was able to achieve together that earned them the right to be in the No. 2 spot.
Duncan, Parker and Ginobili recorded the most wins by a trio with 575 regular-season victories and 126 postseason wins together before they retired. They also own the record for most games played by a trio in NBA history with 730 games.
Because of their success, the Spurs are the league's winningest franchise with 2,189 wins against 1,352 losses for an astounding .618 winning percentage.
The Spurs also had a streak of 18 consecutive seasons with 50 or more wins (some of those seasons came before Ginobili and Parker arrived, and after Duncan retired). That's the longest streak ever by any NBA franchise in history. These team accomplishments would not be possible if not for the Big Three of Duncan, Parker and Ginobili.
1. Michael Jordan, Scottie Pippen and Dennis Rodman
1995-1998 Chicago Bulls
Championships: 3
Finals Appearances: 3
Three consecutive Finals appearances resulted in a 3-peat for the most revered Big Three of all time—Michael Jordan, Scottie Pippen and Dennis Rodman.
The addition of Rodman in the summer of 1995 to a team that was already a championship contender with Jordan, Pippen and Toni Kukoc made this Bulls squad nearly invincible. They were the first team to win 70 or more games (matched only by the 2016 Warriors) and the only one to win a championship in the same season.
Not only did they win 72 games in 1996, they nearly made it back-to-back 70-win seasons with 69 wins in 1997. An uncharacteristic three losses in the final four games of the season sabotaged what would have been a more historic accomplishment.
In 1998, even with Pippen playing only 44 games, the Bulls still won 62 games. That's a testament to the greatness of Jordan, who started off the season slow but eventually found his groove on the way to another MVP season.
His Airness won two of his five MVPs during this three-year period. Were it not for Karl Malone winning the award in 1997 (an achievement that some still question to this day), Jordan would have won three straight MVP awards.
It didn't matter in the championship rounds, though, as Jordan won three Finals MVPs alongside his three championships.
Pippen would often take on the toughest defensive assignments and facilitate the offense for the Bulls. One of the best all-around players ever, the 6-foot-7 forward was an All-NBA Team member and All-Defensive Team selection all three years. He just missed being a three-time All-Star during this run because he didn't play in the 1997-98 season until January.
Rodman, the mercurial but talented power forward, led the league in rebounds all three years he was with the Bulls. His defense, rebounding and understanding of the triangle offense made it possible for Chicago to win as many games as they did.
Though they didn't play as long as most trios on this list, the Bulls' dominance during this three-year span was such that their Big Three merit taking the top spot.
In three years, the Bulls were pushed to a Game 7 only once and a Game 6 just three times as they routinely put away teams within four or five games.
Additionally, the Bulls never needed a seventh game to beat teams in the Finals series. Jordan, Pippen and Rodman were so good that it is nearly impossible not to give them the title of the best Big Three of all time.