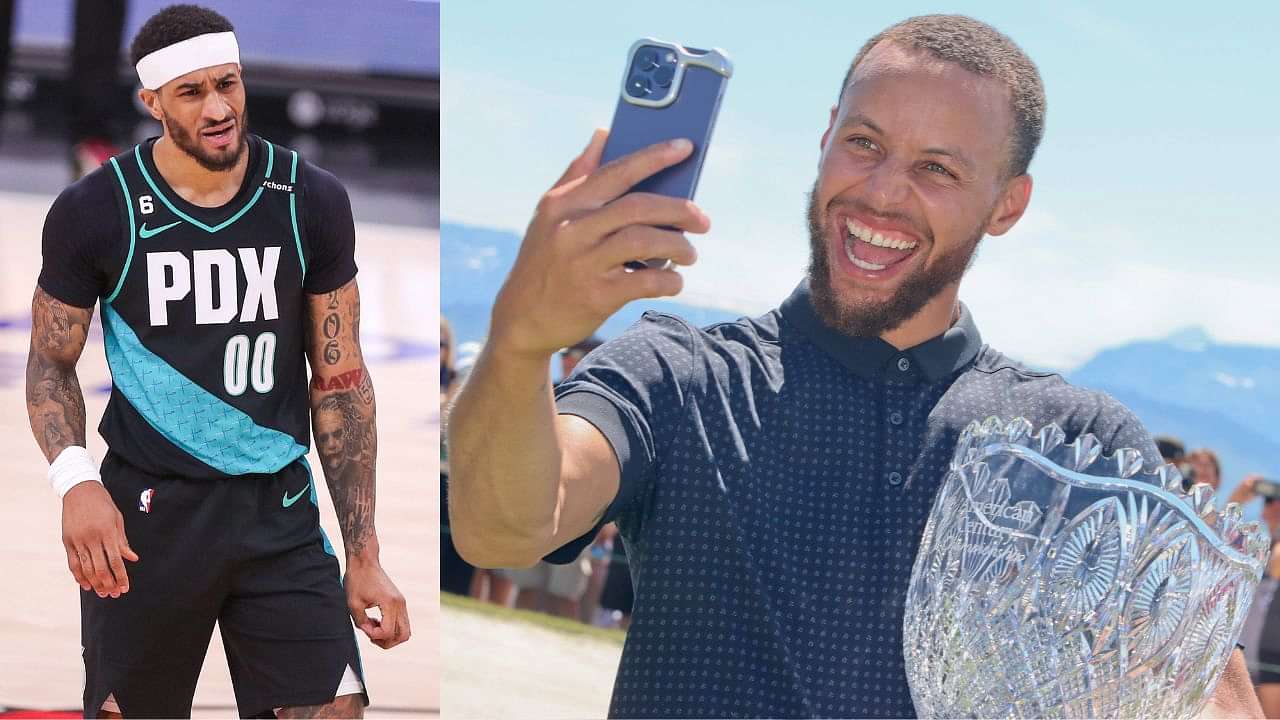 Gary Payton II and Stephen Curry. Credits: Imago
Stephen Curry and golf are almost inseparable. This offseason, Steph has been playing golf nonstop and has even bagged some silverware while keeping at it. Steph even got to show off his impressive putting skills during Warriors media day, checking how many balls they can put. He crashed Gary Payton II's game segment showing everyone who's boss. The 2015 MVP took on Gary Payton and two other people in a game of putting and the results were obvious from the start.
The game started great with Gary Payton's team doing well. The celebrations stopped real quick when Curry stepped up to the putting green. Number 30 would proceed to make all of his shots but one to take the win.
A frustrated Garry Payton later told a camera person backstage,
"He found his rhythm and it was over in two seconds. Tired of him winning everything. "
The clip made for a funny moment, as the Warriors are known to often have competitions during practice, but it usually doesn't involve any golf. However, there are no doubts about Curry's golfing skills.
Stephen Curry is a golfer
Stephen Curry has been playing golf since he was old enough to hold a club. The mileage that Stephen has over his peers is clear, as he is starting to win golf Championships as of late. Recently, the Warriors guard won the ACC Championship. He became the second NBA player and the first African American to win the tournament.
Curry unfortunately had to forfeit the $125, 000,000 cash prize. This was due to Stephen Curry having an amateur status in golf, and according to the rules of the International Golf Federation, amateurs can't collect tournament winnings.
Steph, who didn't want to give up his amateur status just yet, decided to forget his earnings. The two-time NBA MVP instead ended up donating his winnings to a Charity of his choice.
Curry even managed to make an impressive hole-in-one during the tournament, which was the highlight of the event. He didn't have such great luck when it came to Capital's One's 'The Match'. Though Steph had a disappointing loss in the event, golf has always treated Curry well.
The baby-faced assassin recently even got to interview Bulls legend Michael Jordan, as the duo has a common interest in golf. This interview took place during the Ryder Cup in 2021.