Lionel Messi picked up his eighth Ballon d'Or title, winning the men's award at the 2023 ceremony following his outstanding season.
The Argentine led his country to World Cup glory – defeating France on penalties in the final last year.
He also scored a whopping 32 goals in 55 games across all competitions for PSG, to help the side clinch the Ligue 1 title. The forward moved to MLS side Inter Miami in the summer and has already enjoyed a successful start to life in America – helping the side win the Leagues Cup against Nashville.
As well as scooping yet another Ballon d'Or, the forward was gifted with eight golden rings.
The Inter Miami forward was given the 14-carat gold rings by sportswear giant Adidas. Each ring, which are reportedly set to be auctioned off, signifies one of Messi's Ballon d'Or victories.
Lionel Messi claimed his eighth Ballon d'Or title on Monday night in Paris
Lionel Messi has been gifted eight golden rings by Adidas to mark his eighth Ballon d'Or
They feature an inscription relating to memorable moments in Messi's career, including one which has three stars to mark Argentina's World Cup triumphs and another with the number '91' to mark his record goals tally in a calendar year.
Each ring represents the following:
2009: "El Beso" – pays homage to Messi's celebration in Barcelona's Champions League victory over Manchester United
2010: "Apunta Al Cielo" – in homage to his mystical celebration dedicated to his grandmother Celia
2011: "GOAT" – being the figure of the Pep Guardiola's all-conquering Barcelona side
2012: "91" – for the number of goals in a calendar year, a record.
2015: To mark his last Champions League title. He won four in total for Barca
2019: For obtaining his last Golden Shoe. His tally of six is a record
2021: "South American Champion" for winning the Copa América, being the MVP and top scorer.
2023: The three stars, honouring Argentina's three World Cups.
'It's nice to be here once more to enjoy this moment,' said Messi. 'To be able to win the World Cup and achieve my dream.'
He replicated a similar pose by 11-time NBA championship winner Russell from an iconic photoshoot in 1996. With Messi being pictured wearing the eight rings, the football icon joins many sports greats in taking an epic photo with championship rings.
Back in October, Tom Brady took to Instagram to celebrate the Las Vegas Aces' WNBA Finals win as he added yet another championship ring to his collection.
The Aces defeated the New York Liberty 70-69 in a Game 4 thriller to win their second straight title – less than a month after Brady was officially approved as the team's minority owner.
The title is the eighth that Brady has been involved in after he won a staggering Seven Bowls (six with the Patriots, one with the Buccaneers) in the NFL.
Former NBA star Michael Jordan won all six of his championship rings with the Chicago Bulls. He is considered by many to be the greatest basketball player of all-time.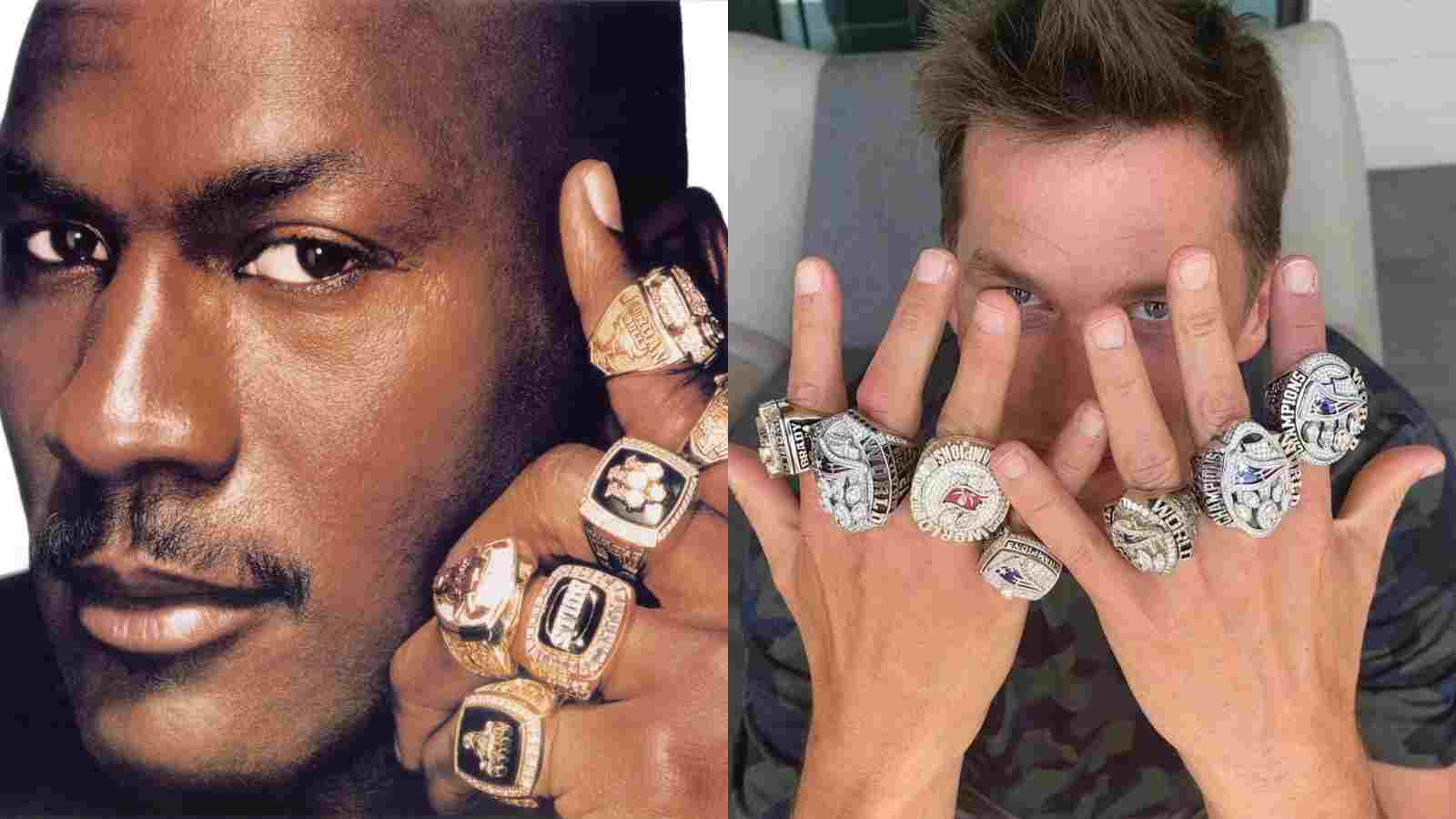 Jordan went to six NBA Finals during his career and won all of them in dominant fashion – with every game never having to go to a seventh game. His six NBA Championships is among the highest any player has achieved in the sport.
It has been reported that every ring is valued at around £123,000 ($150,000) – with all six worth nearly a million.
After a glittering career with the Bulls and Washington Wizards, Jordan decided to call it quits back in 2003.